What the COVID-19 vaccine means for you, your family and your community - hear from the experts - Tuesday, 16th March 2021 at 6:00pm - Cheshire West and Chester Council webcasting
What the COVID-19 vaccine means for you, your family and your community - hear from the experts
Tuesday, 16th March 2021 at 6:00pm
Agenda
Slides
Transcript
Map
Resources
Twitter
Forums
Speakers
Feedback or questions
Votes
About
Welcome and Introductions
Opening remarks: Ian Ashworth and Alison Lee
COVID-19 Vaccination and fertility
COVID-19 Vaccination – how well it works and side effects
COVID-19 Vaccination and your community
Closing comments and thanks: Ian Ashworth and Alison Lee
What the COVID-19 vaccine means for you, your family and your community - hear from the experts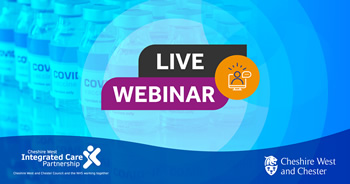 We're inviting you to hear from local experts and doctors who will explain about:
COVID-19 vaccine safety and side effects,
what having the vaccine means for you and your community,
fertility facts.
Cheshire West Integrated Care Partnership invites you to join them at this webinar in order to arm you with the facts about the vaccine from 6pm until 7pm on Tuesday, 16 March.
They will tell you what they know, answer some of your questions and help you to make an informed decision about whether to get the vaccine when it's your turn.
Everyone is welcome to attend and a recording will be available after the webinar if you're not able to watch the live session.