Helping the personal care and beauty sector to reopen safely – information on legal requirements and how to manage an outbreak - Thursday, 8th April 2021 at 10:30am - Cheshire West and Chester Council webcasting
Helping the personal care and beauty sector to reopen safely – information on legal requirements and how to manage an outbreak
Thursday, 8th April 2021 at 10:30am
Agenda
Slides
Transcript
Map
Resources
Twitter
Forums
Speakers
Feedback or questions
Votes
About
Welcome and introductions
Four-step timetable and provisional dates
Help! A staff member has tested COVID-positive, what do I do?
Helping the personal care and beauty sector to reopen safely – information on legal requirements and how to manage an outbreak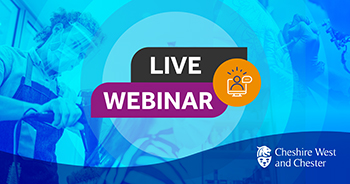 We're inviting you to hear from Council experts who will explain about:
the legal requirements for reopening your personal care business safely
what to do if a member of staff tests positive for COVID-19
a toolkit to help guide you through managing an outbreak
If you own or manage a personal care or beauty business, like a hairdresser's, beauty salon or tattoo parlour, Cheshire West and Chester Council invites you to join this webinar from 10.30am to 11.30am on Thursday, 8 April.
This is a useful opportunity to find out all you can on reopening safely.
Anyone who would like to ask a question before or during the webinar can email: regulatoryservices@cheshirewestandchester.gov.uk
A recording will be available after the webinar if you're not able to watch the live session.